Collection: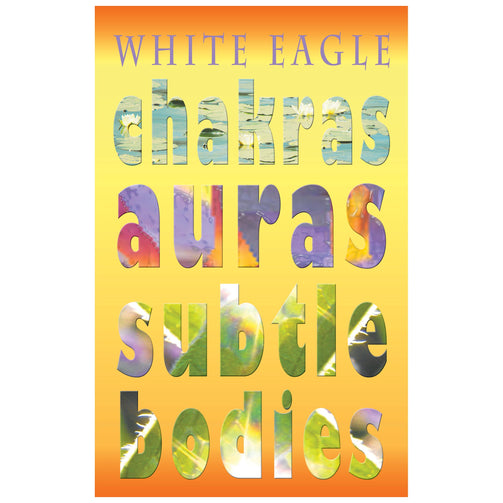 Collection:
Chakras, Auras, Subtle Bodies
Chakras, Auras, Subtle Bodies
Regular price

Sale price

$12.00
Chakras, auras, subtle bodies offers a remarkably comprehensive guide to its subject, both to the student of ancient wisdom and to the follower of White Eagle's remarkable teaching—coming as it does from the subtle world itself. chakras, auras, subtle bodies can also be used as a guide to spiritual unfoldment, for it shows how a steady development of awareness—one that begins, always, in the heart chakra—brings the subtle body to life.
In chakra terms, says White Eagle, the purpose of life through many incarnations is to create, fully, what he calls 'the solar body'. As its name implies, this is larger and greater than the physical body as the sun is to the earth, and it shines with a corresponding joyous light. It is the body that exists in the Oneness, not in separation but in ever more perfect being, 'as the dewdrop slips into the shining sea'.
Meditation is indeed a way to create the solar body, but White Eagle also tells us how important is work on earth – what he often refers to as 'service'. Service exists simply in living our lives on earth, but it can be enhanced in all sorts of ways. The second half of chakras, auras, subtle bodies is something of a workbook, in that it gives not only meditations but other exercises and suggestions which will help us bring the light of the heart into the other chakras, one by one, through meditation, insights and specific practices.
Destined to become one of White Eagle's most popular books, chakras, auras, subtle bodies is unique in its contribution to a whole field of devotion and study.
192 pp paperback
216 x 138 mm